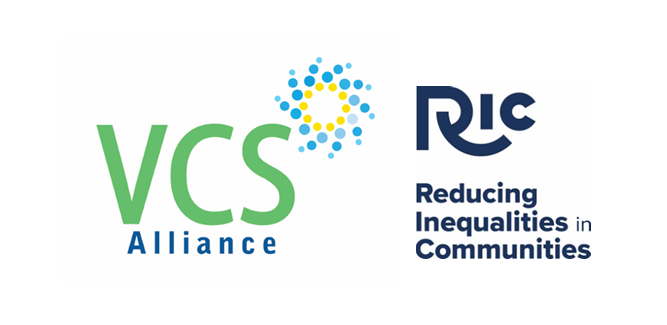 Submission of the Expression of Interest
All Expres­sions of Inter­est for this con­tract must be sub­mit­ted by 12 noon, 1st July 2022
Background

Com­pas­sion­ate Com­mu­ni­ties is part of a suite of projects deliv­er­ing across cen­tral Brad­ford where sig­nif­i­cant health inequal­i­ties exist across com­mu­ni­ties and where the gap in how long peo­ple will live is stark. Peo­ple in these most deprived areas of our dis­trict are liv­ing with more ill health and dying earlier.
Com­pas­sion­ate Com­mu­ni­ties (CC) is part of the Reduc­ing Inequal­i­ties in Com­mu­ni­ties (RIC) pro­gramme. This is a move­ment of peo­ple and projects who are work­ing togeth­er to reduce health inequal­i­ties and close the health gap in cen­tral Brad­ford; so that every­one can live health­i­er, hap­pi­er and longer lives.


Pop­u­la­tion health man­age­ment approach:
The RIC pro­gramme fol­lows a pop­u­la­tion health man­age­ment frame­work, using data and knowl­edge about our local com­mu­ni­ties to see where there are the great­est inequal­i­ties. It involves iden­ti­fy­ing groups of peo­ple at risk of ill health and then focus­ing on what can be done to pre­vent it or help them to man­age it.


RIC projects
The RIC pro­gramme is made up of a range of projects which will help improve people's health and tack­le inequal­i­ties at dif­fer­ent stages of life. Each project is made up of organ­i­sa­tions and part­ners who are work­ing in com­mu­ni­ties, who under­stand the health inequal­i­ties peo­ple face and who are com­mit­ted to tack­ling these.


RIC Com­pas­sion­ate Com­mu­ni­ties Com­mu­ni­ty Devel­op­ment and Volunteering
Com­pas­sion­ate Com­mu­ni­ties CD/VC (CC CD/VC) team deliv­ers across Com­mu­ni­ty Part­ner­ships 4/5 and 6. The new deliv­ery part­ner would be work­ing close­ly with the exist­ing providers and their Project Managers:
CP4 – Girling­ton Cen­tre – Project Lead for CD
CP6 – Brad­ford Tri­dent – Project Lead for VC
The CC CD/VC team are an inte­gral part of Cen­tral Local­i­ty Inte­grat­ed Care Ser­vices (CLICS).
CLICS also pro­vides Com­mu­ni­ty Con­nec­tors (Social Pre­scribers) who work close­ly with GPs, Advanced Prac­ti­tion­ers and prac­tice-based staff to sup­port indi­vid­u­als to link into com­mu­ni­ty-based assets. This means our CC CD/VC are the lynch pin to the suc­cess of CLICS. The team increas­es aware­ness of exist­ing com­mu­ni­ty assets, sup­ports local grass­roots VCS organ­i­sa­tions to devel­op fur­ther resources to build com­mu­ni­ty resilience. It upskills com­mu­ni­ty mem­bers through health and well­be­ing train­ing to be part of cre­at­ing new ser­vices to address gaps and to deliv­er bespoke answers to issues faced by patients referred to CC CD/VC and com­mu­ni­ty members.

Eligibilty
We are invit­ing expres­sions of inter­est from com­mu­ni­ty organ­i­sa­tions based and active in CP5 (Brad­ford East).
You must be an organ­i­sa­tion that is:
Embed­ded in the locality.
Expe­ri­enced in mul­ti­ple ser­vice delivery.
Sup­port­ing small­er local organ­i­sa­tions and groups in its local­i­ty and has a sound under­stand­ing of the com­mu­ni­ties and issues in the locality.
Finan­cial­ly independent
Will­ing to take on some local co-ordi­na­tion functions.
Sup­port­ed by a Board who recog­nis­es the val­ue of this role.
The Provider must:
Be a Vol­un­tary Sec­tor Char­i­ty, CIO, Social Enter­prise, CIC, Not-for-Prof­it Com­pa­ny or con­sti­tut­ed com­mu­ni­ty organ­i­sa­tion, with clear and trans­par­ent char­i­ta­ble objectives.
Show a com­mit­ment to deliv­er­ing ser­vices in Brad­ford Dis­trict and Craven.
Deliv­er at least 50% of activ­i­ty or have at least 50% of clients based with­in the CP5 area.
Demon­strate a com­mit­ment to col­lab­o­ra­tive working.
Be com­mit­ted to active­ly par­tic­i­pat­ing in the work of The VCS Alliance, adher­ing to the Char­i­ty Good Gov­er­nance Code https://www.charitygovernancecode.org/en/front-page
Be com­mit­ted to shar­ing exper­tise, knowl­edge and expe­ri­ence with others
Have appro­pri­ate Insur­ance Cov­er in place. Organ­i­sa­tions must have at least £5m Pub­lic Lia­bil­i­ty Insur­ance, and at least £5m Employer's Lia­bil­i­ty Insurance.
Be reg­is­tered with the Infor­ma­tion Commissioner's Office.www.ico.org.uk/for-organisations
Have organ­i­sa­tion­al Pri­va­cy Poli­cies and Pro­ce­dures in place cov­er­ing the Data Pro­tec­tion Act 2018 and UK GDPR (Gen­er­al Data Pro­tec­tion Reg­u­la­tions) 2018.
Become a sig­na­to­ry of an agreed Infor­ma­tion Shar­ing Protocol
Have com­plet­ed the NHS Data Secu­ri­ty and Pro­tec­tion Toolk­it self-assess­ment for 22–23 or be able to com­plete this by the end of 2022–23
Have exit­ing Cyber Essen­tials Cer­ti­fi­ca­tion for 22–23 or be able to gain this by April 2023
Have appro­pri­ate core com­pe­ten­cies for staff work­ing with or sup­port­ing the deliv­ery of this project.


Selec­tion of Deliv­ery Providers
All expres­sions of inter­est will be scru­ti­nised by an inde­pen­dent Deci­sion Mak­ing Pan­el. This pan­el is com­prised of cross-sec­tor per­son­nel with expe­ri­ence and under­stand­ing of:
Com­mu­ni­ty Devel­op­ment practice
The under­ly­ing prin­ci­ples and aims of Com­mu­ni­ty Devel­op­ment practice
Vol­un­teer­ing (strate­gic and operational)
Knowl­edge of the RIC, its aims and objectives
All sub­mit­ted Expres­sions of Inter­est must achieve a total min­i­mum score of 75% across the scor­ing matrix to be tak­en for­ward to the final Deci­sion Mak­ing Panel.
We are look­ing for 1 provider for the deliv­ery of this con­tract, though we are hap­py to con­sid­er part­ner­ship working
Noti­fi­ca­tions
The Deci­sion Mak­ing Pan­el will meet on Wed 6th July and projects will be informed if they have been select­ed as a Deliv­ery Provider with­in a week.
Project Com­mence­ment
Select­ed Deliv­ery Providers must be able to com­mence deliv­ery by the 1st of August 2022, though con­sid­er­a­tion will be giv­en if TUPE is enact­ed. We would there­fore ask you to con­sid­er whether you have the capac­i­ty to accom­mo­date such a quick turn around before applying.
Deliv­ery Peri­od
1st August 2022 — 31st March 2024
Con­tract Val­ue
1st August 2022 — 31st March 2023: based on a per annum pro rata rate of the full year­ly val­ue
1st April 2023 — 31st March 2024: based on full year val­ue.
For total con­tract val­ue and pay­ment sched­ule please con­tact Ker­rie-Lee Barr: kerrie@thevcsalliance.org.uk
Nova­tion
As this con­tract is sub­ject to nova­tion, TUPE require­ments may be enact­ed, please ensure you under­stand the impli­ca­tions of this before applying.
Nec­es­sary doc­u­men­ta­tion
Suc­cess­ful Expres­sions of Inter­est will be asked to demon­strate they can meet any and all doc­u­men­tary con­di­tions such as ade­quate Pub­lic and Employ­er's Lia­bil­i­ty insurance.