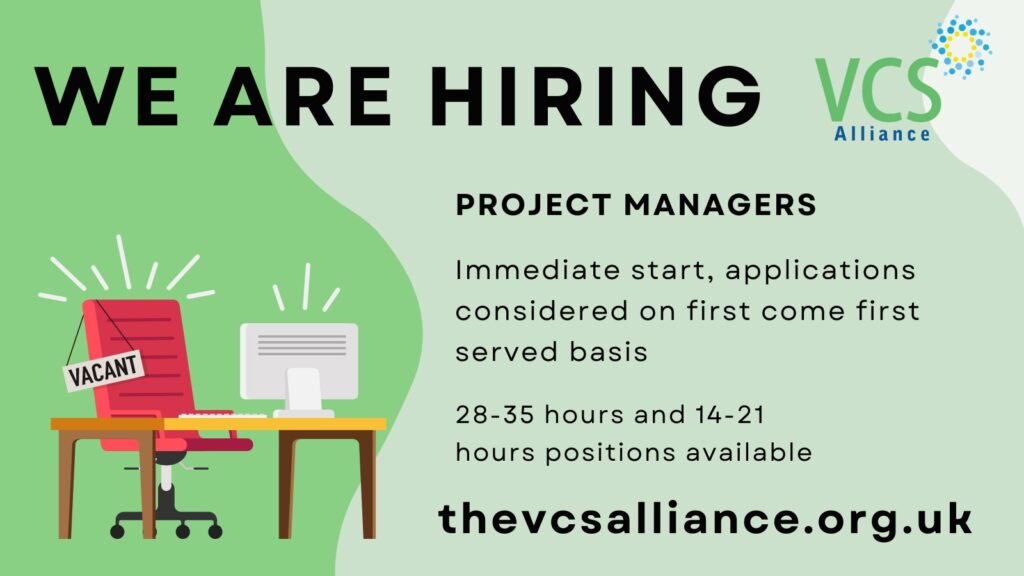 The VCS Alliance is a suc­cess­ful organ­i­sa­tion, prid­ing our­selves on deliv­er­ing high qual­i­ty work. This is through part­ner­ing with a range of Vol­un­tary and Com­mu­ni­ty Sec­tor (VCS) organ­i­sa­tions across Brad­ford Dis­trict and Craven.
We work close­ly with local Health and Care part­ners, and coor­di­nate some of the local VCS rep­re­sen­ta­tion in the Health and Care area.
We are look­ing for Project Man­agers to join our grow­ing team. Due to secur­ing addi­tion­al work, we can offer posi­tions of 28–35 hours, and 14–21 hours per week.
This role will help us to deliv­er sev­er­al new projects under the broad theme of 'Win­ter Pres­sures', as we con­tin­ue to work with new part­ners and local VCS deliv­ery providers. The Job Descrip­tion, Per­son Spec­i­fi­ca­tion, Appli­ca­tion Form and Equal­i­ty Mon­i­tor­ing can all be down­loaded below.
Posi­tions are avail­able imme­di­ate­ly, so appli­ca­tions will be con­sid­ered on a first come, first served basis. We will close recruit­ment as soon as posi­tions are filled so hur­ry and get your appli­ca­tions in! We also would be open to explor­ing Sec­ond­ment opportunities.
Com­plet­ed appli­ca­tions should be sent to: info@thevcsalliance.org.uk.
For an infor­mal con­ver­sa­tion and for more infor­ma­tion, please con­tact Ker­rie-Lee Barr (Head of Oper­a­tions) on 07882 944247 or via kerrie@thevcsalliance.org.uk.